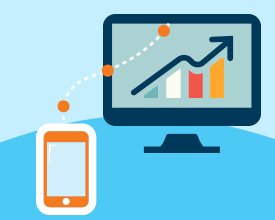 Has your Website been designed to be Mobile Friendly? Most people never leave home without their Mobile Phone.
Do people feel comfortable when they arrive at your Website while using their Mobile Phone?
Or do they feel like leaving, before they even start looking at what you have to offer?
Many companies are already catering to mobile consumers by offering direct updates via text, mobile apps and Mobile Optimized Websites.
Over 50% of your prospective clients will be accessing the Internet from their mobile phones.
Your customers are mobile, you need to be too.
You will capture a bigger piece of the mobile pie before it gets eaten up by your competitors.
Find out if your Website is Mobile Friendly by entering your website address into your Mobile Phone, and then check your site against the following checklist:
Can you easily read the text on screen, without scrolling left or right or zooming in or out?
Does your site load quickly? (Turn off your Wireless WiFi and switch to the 3G or 4G Data Plan on your phone, to simulate the
lower transfer speeds of most mobile networks.)
Can you see all the important and core content of your site in one or two screen views?
Can you quickly get to different pages, and find what you're looking for?
If you answered NO, to any of these questions, your Website has NOT been designed to be viewed on a Mobile Device.
The latest growth in mobile internet use, suggests that by this time next year, about 50% of internet users will ONLY access the web from their Smart Phones.
Does your Website welcome Mobile Users with open arms or does it shoo them away, never to return again?
What's the difference between a Desktop and a Mobile Website?
A mobile website caters to mobile device capabilities with features like:
Scaled down, easy-to-read content with simplified navigation.
Mobile specific landing pages without Flash, huge images, or unplayable videos.
Clear Calls-to-Action at the top of the Mobile Site so the user does not have to scroll.
Touch-friendly interface with buttons that are large enough to click on with your fingertip.
Images with "alt tags" just in case the page is slow to load.
Engage your customers wherever they are.
"The #1 reason for using a Mobile Device for a local business search is because shoppers want information fast, they're on the move, and they're ready to buy. Right Now!"
Is your Website ready and able to conduct business with your Mobile Visitors?
If not, when do you want to get started?

We understand the needs of your Mobile Visitors and are able to create the perfect Mobile Website for your business.Call (905) 840-8179 now for a Free Consultation.